Tips for Hosting Thanksgiving at Your Apartment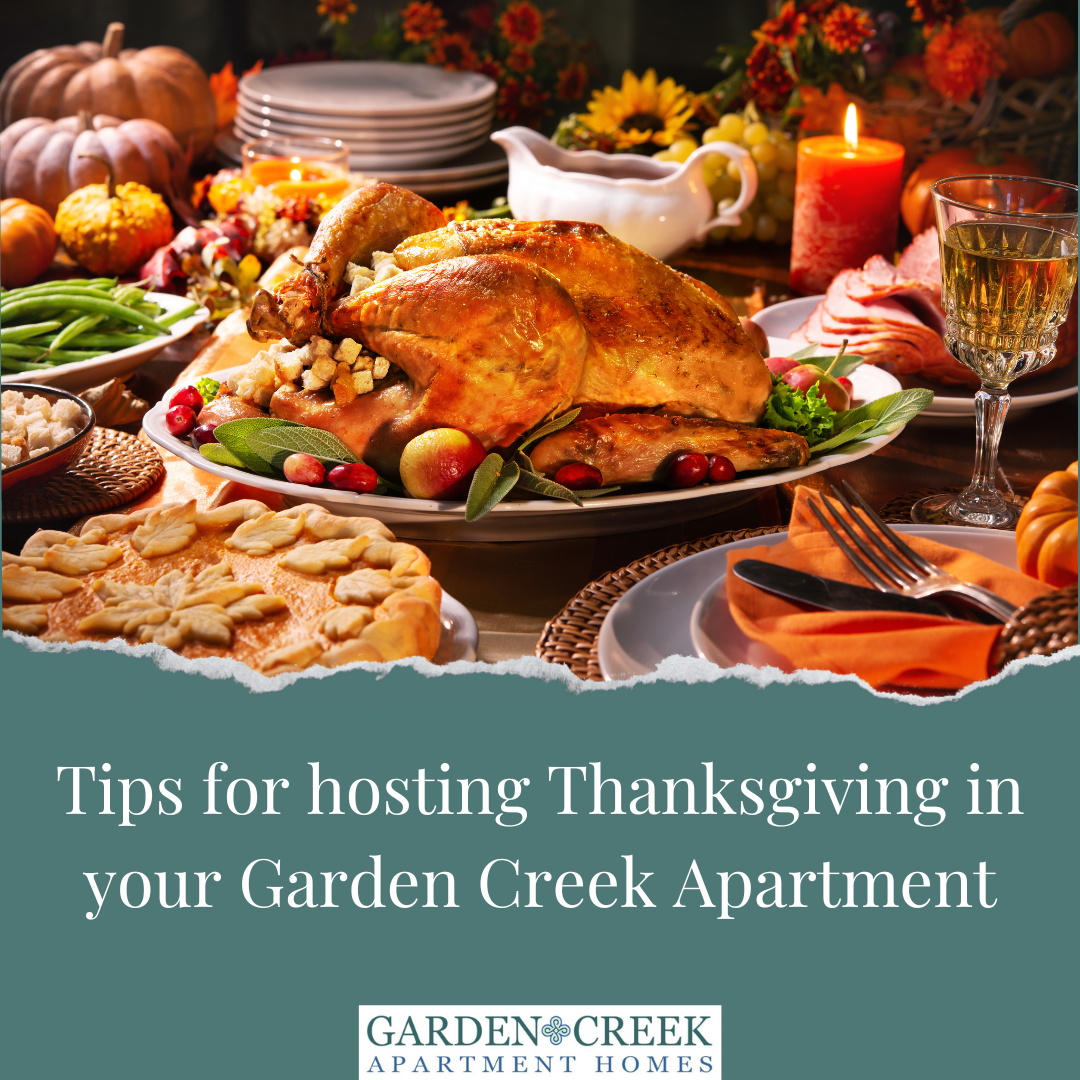 Prepping Your Apartment
Before you start cooking it's important to tidy up your Garden Creek Apartment. This is a great time to declutter, re-organize, and donate items you no longer need or use. Not only will this free up space in your apartment, but it will also give your home a fresh, clean feeling!
Donation Locations in Boerne
Fabulous Finds Thrift Store
934 N School St · In Kendall County Women's Shelter Thrift Store
(830) 331-1021
WEBSITE – https://www.kcwstexas.org/
Hill Country Animal League (Thrift Store)
115 W Bandera Rd
(830) 249-8040
Random Hangers
122 W Advogt St
(830) 331-2219
Sisters' Attic
316 W Highland Dr
(830) 249-0020
Faith & Funky Junk
39320 I-10
(830) 446-1102
Seating Situation
When hosting in an apartment it is important to make the most out of the seating you have and improvise. Don't be afraid to have guests sit on your couch as they eat. You can pick up a couch cover to protect fabric in case of spills. You can also put out a few folding chairs in the living room and dining room as extra seating options.
Potluck style!
A potluck-style Thanksgiving dinner is the best – especially if you don't feel like making all the food yourself!  All you do is ask guests to bring a dish along – this is a fun way to taste and try new recipes.
Tip: Be specific when asking guests to bring a dish. You can specify who is bringing appetizers, vegetable dishes, drinks, and the dessert.
Prep your fridge for the turkey
A turkey is a big bird and you need space to store it! Make sure you clean out your fridge a couple of days before Thanksgiving and remove any shelves necessary.
Don't forget to defrost your turkey in advance!
Use a cooler for drinks or keep drinks on your patio. Free up fridge space by keeping drinks in a cooler with ice, or get them out of your kitchen all together by keeping them out on your patio if it's cold enough outside!
Serve it buffet style on your large kitchen Island! Save valuable table space by allowing your guests to serve themselves right from your stove and kitchen counter!
Keep it simple! Overall, Thanksgiving is about the people you're spending it with and the memories you're making together. When in doubt, keep it simple and don't stress about the small stuff.
Don't cook? Order Local from Boerne Restaurants!
Peggy's On The Green
 128 W Blanco Rd, Boerne, TX 78006
Dining in or taking it home – let us be a part of your Thanksgiving. We're open Thanksgiving Day, 11am – 7pm.
Call us to reserve your table (830.572.5000) OR call to order now for pickup (210.441.9993).
Order your thanksgiving meal from Peggy's – one of Boerne's best restaurants. See menu below:
Kleins Smoke Haus
342 N Main St, Boerne, TX 78006
https://www.kleinsmokehaus.com/
Order your smoked turkey or ham from Boerne's oldest and best smoke house!
Smoked Turkery's sealed with heating instructions
16-18 lbs  – $62.99
Smoked Ham sealed with heating instructions
$5.29lb
Order: Over the phone or come in store
Closed on Thanksgiving (Pick up on Wednesday or Tuesday before)
On a tight budget?